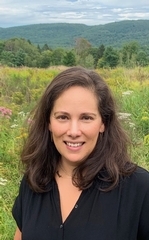 Jennifer moved to Columbia County from Brooklyn in 2018 and hasn't looked back. She has a background in art and design, and previously managed a chain of specialty boutiques across Manhattan, Westchester, and Connecticut for 16 years before transitioning to Real Estate full time in 2019.  Jennifer loves old houses and is constantly working on restoring her Victorian in the Village of Chatham.  In her spare time she is out exploring and taking in all that the Hudson Valley and Columbia County has to offer, great restaurants, shopping, family farms, art and culture, and year round recreation.
Understanding the importance of first impressions for buyers, she leverages professional photography, videos, and virtual tours to market all her listings on all platforms.  In the "new normal" she can guide buyer or seller clients thru a deal remotely, handling everything electronically and virtually. She guides her clients throughout the process of buying or selling, so no detail slips through the cracks and the deal closes on time.  So whether you are selling your home or buying your first home, forever home, or investment property, you can be assured you are in good hands with Jennifer and she will get the job done.
Jennifer was the recipient of the CGBR "2020 Rookie of the Year" award, given to one active member who has been in the business three years or less that demonstrates outstanding service to the industry and the Columbia Greene Board of Realtors.  In 2021, Jennifer is serving as the Chairperson of the Education Committee at the Columbia Green Board of Realtors.
Jennifer carries the following National Association of REALTORS®' [NAR's]  Designations and Certifications: GREEN, GRI, PSA, RSPS. 
GREEN Designation: Trained in understanding what makes a property green, helping clients evaluate the cost/benefits of resource-efficient features and practices, distinguishing between industry rating and classification systems, listing and marketing green homes and buildings, discussing the financial grants and incentives available to homeowners, and understanding how buyer and seller preferences may be inspired by resource-efficiency.
Graduate, REALTOR® Institute (GRI) Designation: These REALTORS®  are committed to provide a high level of professional service to their clients by securing a strong educational foundation, having completed additional education covering subjects in contract law, professional standards, sales and marketing, finance and risk reduction.
Pricing Strategy Advisor (PSA) Certification: Determining property values depends more than ever on professional expertise and competence, the best use of technology, and a commitment to approach the pricing assignment from various perspectives.  REALTORS® with the PSA certification are equipped to guide clients through the anxieties and misperceptions they often have about home values.
Resort and Second-Home Property Specialist (RSPS) Certification: Specialization in buying, selling, or managing second-homes in a resort, recreational, and/or vacation destination and properties for investment, development, or retirement.
TESTIMONIALS:
"Jennifer was responsive and knowledgeable, but was never pushy. She helped steward us through the home buying process, and kept us and our various stakeholders (mortgage company, lawyers, sellers, etc.) on a clear timeline. We really felt so lucky to have her." - 11/3/20 - Scott Stafieg  from zillow.com https://www.zillow.com/profile/jennifersesma/
"In the 15 years I sold real estate, I encountered many agents and situations. Jennifer is one of the best. She is efficient, knowledgeable, empathetic, and a joy to work with. I recommend her wholeheartedly, without reservation." - 6/4/20 - zuser20151001104648118 from zillow.com https://www.zillow.com/profile/jennifersesma/
"What we really enjoy about Jen is that she is forthright and to the point. She gets down to business and understands that purchasing/selling homes is a stressful business for the client and so she endeavors to make the process more comfortable and transparent so in the end everyone feels like they  are taken care of and could do it again. You certainly can't say that about every realtor or home buying process! This coupled with her ambition and willingness to go the extra mile in researching the area, type of home, even design advice make her a wonderful real estate professional to work with. Until you work with a good realtor, you don't know what you're missing! Thanks Jen for all of your help and we look forward to continuing to work with you!" -9/16/19 - ktansey72 from zillow.com https://www.zillow.com/profile/jennifersesma/
Jennifer Sesma 's Listings
4
Beds
1
Baths
2,562
SqFt
#130103 | Single Family Home
#129542 | Single Family Home
3
Beds
2
Baths
1,800
SqFt
#14842064 | Single Family Home
3
Beds
1
Baths
1,352
SqFt
#14842066 | Single Family Home
3
Beds
2
Baths
2,200
SqFt
#13594514 | Single Family Home
4
Beds
2
Baths
2,040
SqFt
#13594635 | Single Family Home
3
Beds
2
Baths
2,072
SqFt
#15422083 | Single Family Home
3
Beds
3
Baths
1,844
SqFt
#15422099 | Single Family Home