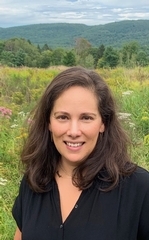 Jennifer Sesma is a trusted Associate Real Estate Broker working in the Hudson Valley. Her refreshingly honest style and creative approach sets her apart from other brokers in her area.
Jennifer obtained her Associate Real Estate Broker license in February of 2022 after 2.5 years as a Licensed RE Salesperson.  She was named the 2020 Rookie of the Year by the Columbia Greene Board of Realtors.  Before real estate, Jennifer had a successful career operating a chain of specialty boutiques across Manhattan, Westchester County, and Connecticut.  After 16 years in the corporate world, she made a pivot and hasn't looked back.  She has a Bachelor of Fine Arts, this background in art & design has proven to be an asset in the real estate world. 
Jennifer brings a fresh perspective to her business and she understands that buying or selling a home is a deeply personal experience.  With her creative background, years of visual merchandising, and customer service experience, she knows first impressions matter with her listings, even in a sellers market with no inventory.  She offers staging consultations, professional photography, video, and virtual tours for all her listings to ensure each listing is represented in the best possible way. She markets her listings on social media and traditional channels to reach as broad an audience as possible, a win for her seller clients.  As an Accredited  Buyer's Representative (ABR®) she goes the extra mile, guiding her buyer clients through the entire process from the initial search, negotiations, securing an accepted offer, closing the deal on time, and all the other steps in-between.  She advocates for her buyer clients, making sure no detail slips thru the cracks.  Her refreshing honesty is a rare treat in a sometimes cutthroat sales environment.  So whether you are selling your home, or buying your first home, forever home, or investment property, you will want Jennifer on your team to get the job done.
Jennifer currently serves on the Board of Directors and as the Chairperson of the Education Committee for the Columbia Greene Board of Realtors.  She also serves on the Planning Board in the Village of Chatham.
Jennifer is a big fan of old houses, of which there are plenty in the Hudson Valley.  She'll probably be forever working on her 1890s Victorian in the Village of Chatham.  In her spare time you may find her gardening or hanging out with her dog and enjoying village life in Chatham.    
  
While she hasn't worked in real estate her entire life, she has fully immersed herself in the industry and has earned multiple National Association of REALTORS®' [NAR's]  Designations and Certifications: ABR, GREEN, GRI, PSA, RENE, RSPS
Accredited Buyer's Representatives (ABR® ) Designation: For most homebuyers, purchasing a home is the largest and most complex financial endeavor they may ever undertake. Not all buyer's reps are equal. A buyer's rep who has earned the Accredited Buyer's Representative (ABR®) designation has made an extra effort to raise the bar, with additional training and experience in serving you, the homebuyer. If you work with an ABR®, you can feel more confident that you'll receive the highest level of buyer-representation services.
 
GREEN Designation: REALTORS® trained in understanding what makes a property green, listing and marketing green homes and buildings, discussing the financial grants and incentives available to homeowners, and understanding how buyer and seller preferences may be inspired by resource-efficiency.
 
Graduate, REALTOR® Institute (GRI) Designation: These REALTORS®  are committed to provide a high level of professional service to their clients by securing a strong educational foundation, having completed additional education covering subjects in contract law, professional standards, sales and marketing, finance and risk reduction.
 
Pricing Strategy Advisor (PSA) Certification: Determining property values depends more than ever on professional expertise and competence, the best use of technology, and a commitment to approach the pricing assignment from various perspectives.  REALTORS® with the PSA certification are equipped to guide clients through the anxieties and misperceptions they often have about home values.
 Real Estate Negotiation Expert  (RENE) Certification:  REALTORS® with the RENE Certification are equipped to effectively advocate for their clients, leverage various options in order to give their clients the tools to make the best possible choice.  
Resort and Second-Home Property Specialist (RSPS) Certification: These REALTORS® specialize in buying, selling, or managing second-homes in a resort, recreational, and/or vacation destination and properties for investment, development, or retirement.
TESTIMONIALS:
"Jennifer was responsive and knowledgeable, but was never pushy. She helped steward us through the home buying process, and kept us and our various stakeholders (mortgage company, lawyers, sellers, etc.) on a clear timeline. We really felt so lucky to have her." - 11/3/20 - Scott Stafieg  from zillow.com https://www.zillow.com/profile/jennifersesma/
"In the 15 years I sold real estate, I encountered many agents and situations. Jennifer is one of the best. She is efficient, knowledgeable, empathetic, and a joy to work with. I recommend her wholeheartedly, without reservation." - 6/4/20 - zuser20151001104648118 from zillow.com https://www.zillow.com/profile/jennifersesma/
"What we really enjoy about Jen is that she is forthright and to the point. She gets down to business and understands that purchasing/selling homes is a stressful business for the client and so she endeavors to make the process more comfortable and transparent so in the end everyone feels like they  are taken care of and could do it again. You certainly can't say that about every realtor or home buying process! This coupled with her ambition and willingness to go the extra mile in researching the area, type of home, even design advice make her a wonderful real estate professional to work with. Until you work with a good realtor, you don't know what you're missing! Thanks Jen for all of your help and we look forward to continuing to work with you!" -9/16/19 - ktansey72 from zillow.com https://www.zillow.com/profile/jennifersesma/
Jennifer Sesma 's Listings